What Is Your Why?
Healthcare is more than a job, it is a calling. Those who excel in the field, stay with it for the long haul, and continue to improve their knowledge and skills through lifelong learning have felt that calling and know their "why?"
"The awe of discovering the human body. The honor of being trusted to give advice. The gratitude for helping someone through a difficult illness. These things never grow old."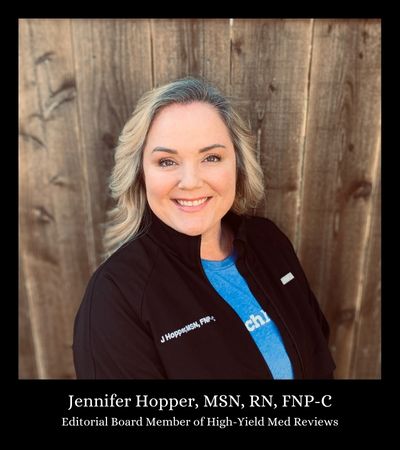 High-Yield Med Reviews', Tamzen Baker, recently interviewed Family Nurse Practitioner, Jennifer Hopper. Jennifer is currently the lead nurse for advanced care with Dispatch Health and has worked as an FNP for 7 years. Jennifer provides hospital-level care to patients at home. She is also an editor at High-Yield and has an interesting history with our founder and CEO, Dr. Anthony Busti.
When asked what motivated her to pursue this calling Jennifer replied, "I have always loved people." Hopper's background helped shape the nurse she is today, and people are her "why".
"He made such an impact on my education. He teaches you the why...Your understanding impacts your patients. It's a big deal."
Hopper's quest to serve others began in the '90s as a lifeguard. She progressed to paramedic school and eventually studied healthcare at Texas Women's University. This is where she first crossed paths with Dr. Busti, who was her Advanced Pharmacology professor. This subject is notorious for inducing anxiety among NP students who are preparing to have prescriptive authority which comes with a significant amount of responsibility to the patient.
Dr. Busti's "why" and that of High-Yield Med Reviews revolves around impacting healthcare for good through premier education that maximizes achievement of clinical excellence. Jennifer experienced this philosophy and approach to healthcare education first-hand with Dr. Busti as her Advanced Pharmacology professor. Jennifer recalled, "He made such an impact on my education. He teaches you the why. The information he gives you is not for the purpose of memorization, but more to retain the information and to use it in practice. It's important that you, as the provider, understand the why and are able to teach it back to your patient in a way that they understand."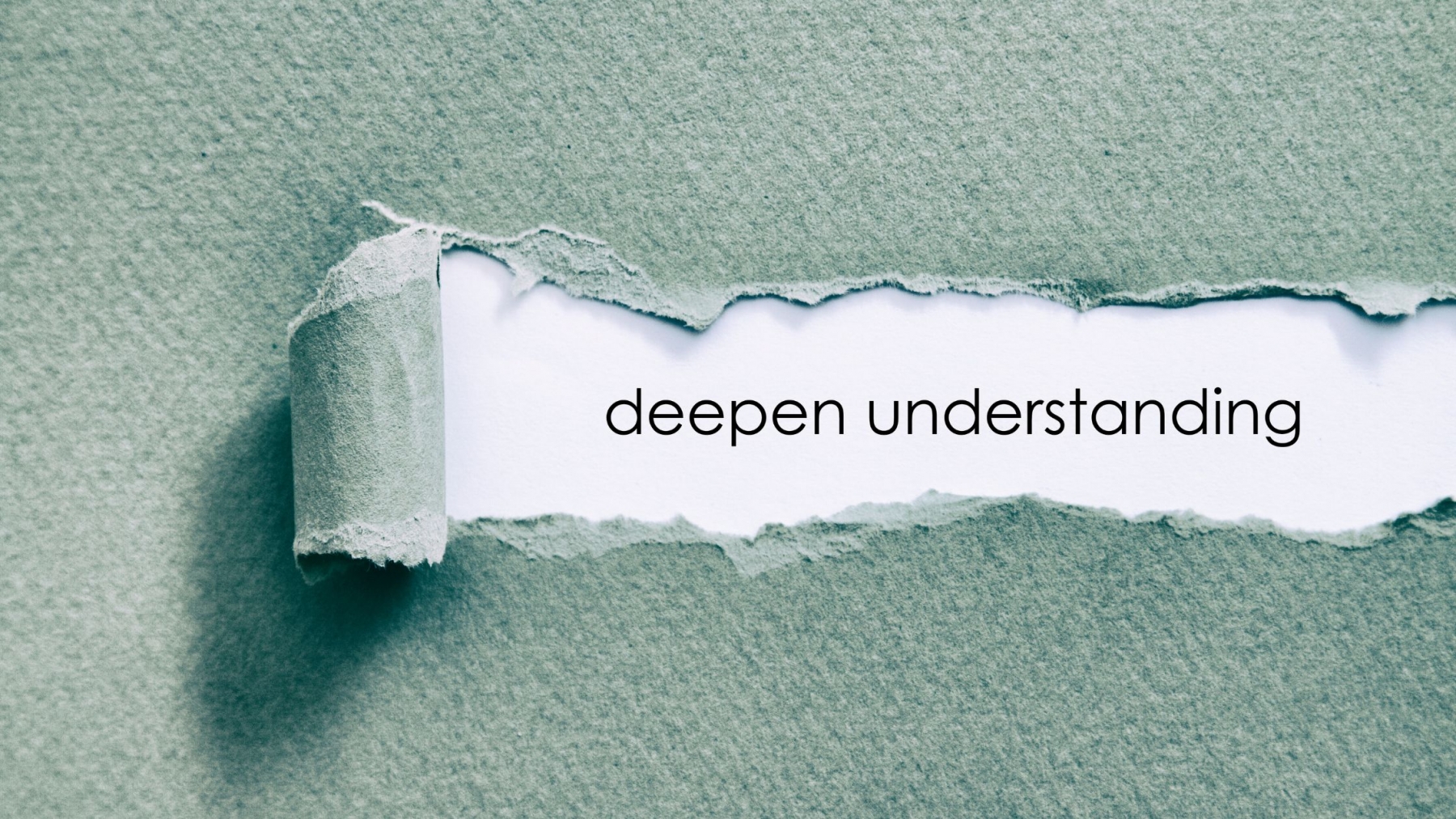 Dr. Busti's unique and extensive background in healthcare as a nurse, then pharmacist, and finally a medical doctor positioned him for excellence as an Emergency Department physician and as an educator. He has a multi-faceted understanding and approach to healthcare which he teaches effortlessly in such a way that the content simply clicks.
Hopper's passion for education inspired her to advance from an RN degree to FNP. "As an RN, you are doing tasks, and I love bedside nursing. You learn so much. But as an FNP, you are the one making decisions, and you need to know how the medication works," Jennifer stated. She wanted to diagnose, treat, and educate. This is where it's important to not just memorize, but to truly understand, retain, and then put it into practice. Hopper concludes, "Your understanding impacts your patients. It's a big deal."
NPs have a reputation for taking the time to listen to and educate their patients. "They (the patient) know you have the time and, in return, they will invest more in each appointment. I want to help patients be their better selves and have better health," said Hopper.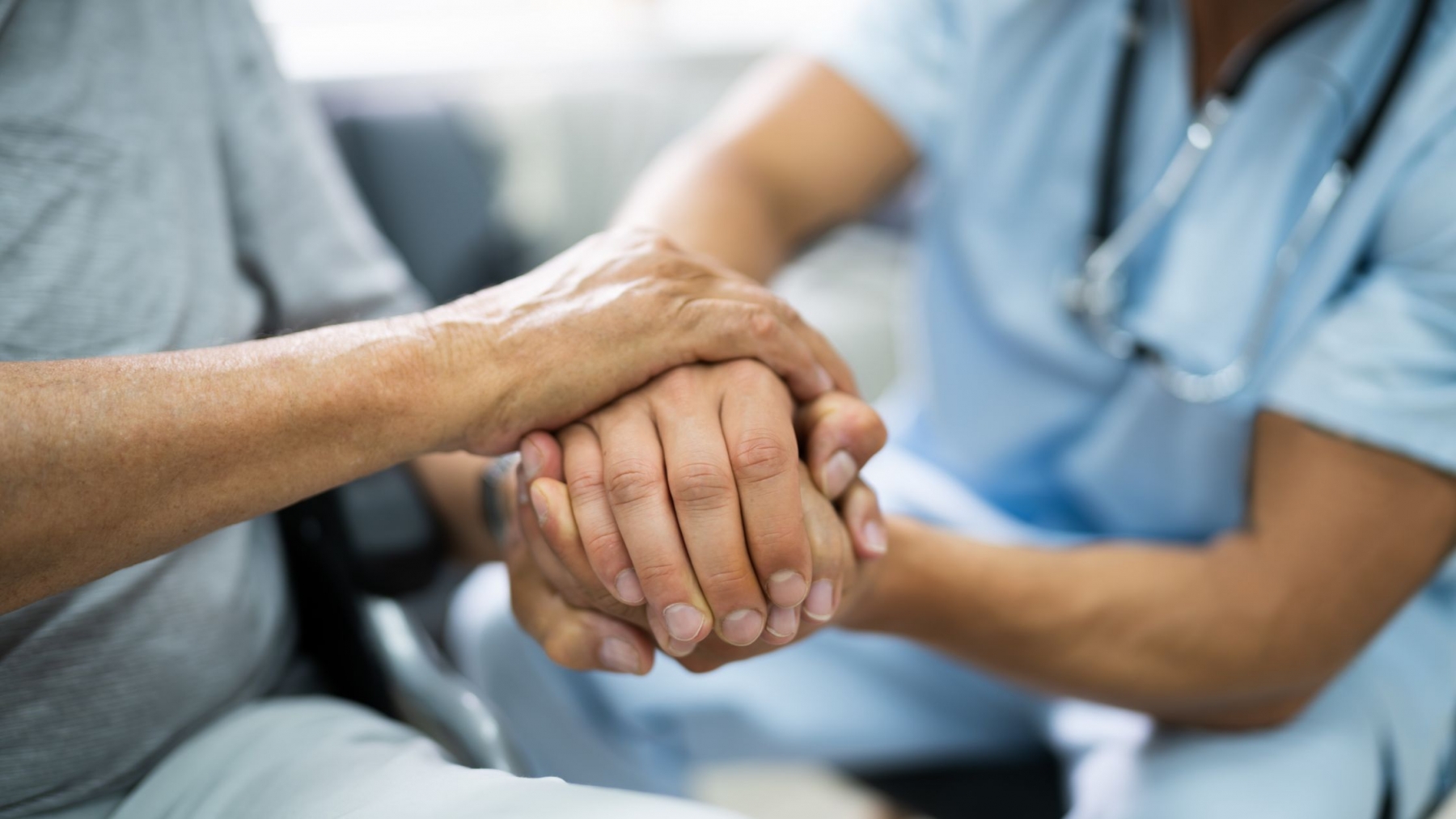 Dr. Busti and Jennifer Hopper eventually crossed paths again when she was completing a fellowship at UT Southwestern. His teaching approach directly impacted Hopper and, in turn, her patients whom she educates daily. "Nothing compares to High-Yield Med Reviews and Dr. Busti's lectures," Hopper stated. "He puts you in real-life scenarios where you can put the information to work, understand the medication and how it affects your patients. As a practitioner, I was confident that I had the best case-based scenarios."
Dr. Busti's comprehensive lectures enable faculty to flip the classroom. Students watch lectures at home and arrive to class with the foundation laid. This way, faculty can dig deeper with the students during valuable in-person or virtual class time and expand students' understanding with their own personal expertise.
Here at High-Yield Med Reviews, that is our why. We are committed to impacting healthcare for good through premier education that maximizes the achievement of clinical excellence. Every person on our team believes in this statement. Thank you, Jennifer, for sharing your experience with us and thank you for impacting healthcare for good.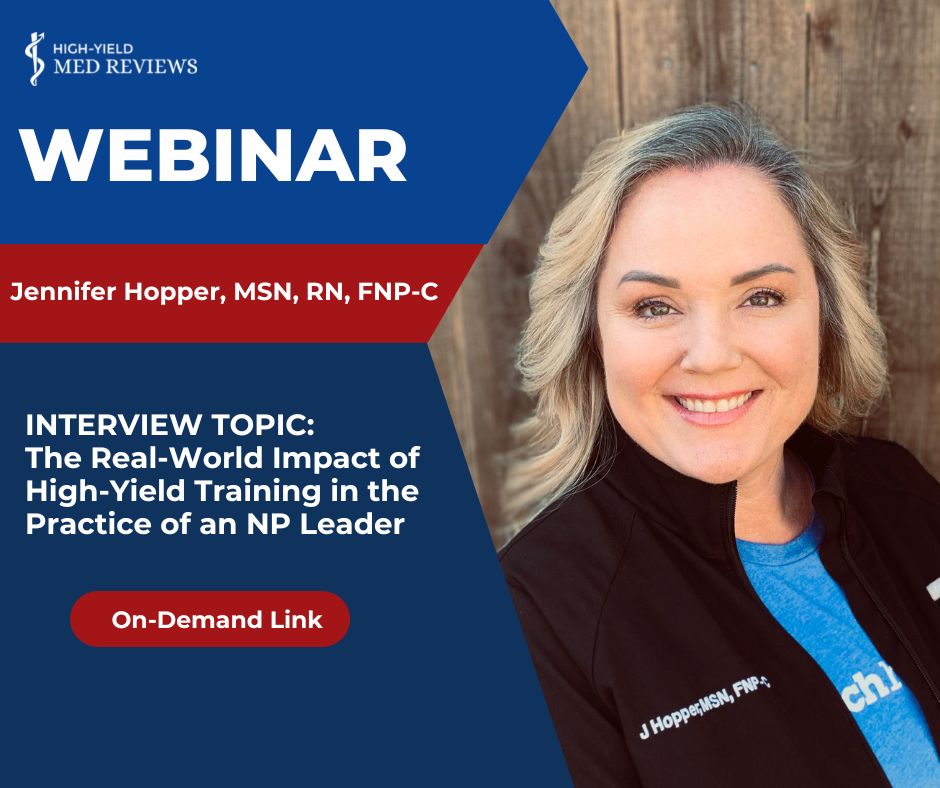 You may also like:

"What to Expect: The New AACN Essentials Roadmap"
"The NP and Prescriptive Authority"